Books 1–3
The Outside the Veil Boxed set, containing Rogue Dragon Rising, Sleeping Dragon Stirs, and Alpha Dragon Awakes is finally available for preorder!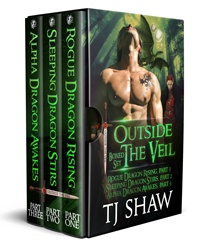 Book 4 —
Trusted Dragon's Betrayal
While the first three books chronicle Jaxon and Amari's journey about finding each other, Trusted Dragon's Betrayal, the next in the series, will continue where Alpha Dragon Awakes left off by delving into the unanswered questions the first books didn't answer.
Evil continues to spread Outside the Veil as loyalties are challenged, beliefs tested, and lives threatened. Who will fall and who will rise? And can the Hawke and Blackthorn nests weather the storm brewing on the horizon?
Trusted Dragon's Betrayal has a tentative end of 2019 release date.