Yay! Sleeping Dragon Stirs, part two has a release date of October 8th, 2018! It's also available for pre-order at the major e‑retailers.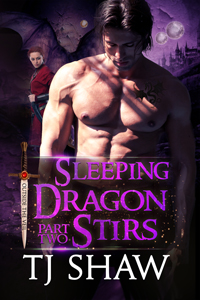 EXCERPT:
Amari stared beyond the hulking body blocking the entrance. The sky had lightened to a deep purple. Although Jaxon's eyes remained closed, she knew the obstacle in front of her only feigned sleep. Despite her sudden bout of claustrophobia, her toes curled in anticipation. She would love to play with this dragon.
She crawled forward until she reached him and hiked a leg over his waist, only she lost her balance and landed heavy on his stomach. Intent on swinging her other leg over, she planted her hands on his chest, but Jaxon grabbed her thighs and she sucked in a startled breath.
Her surprise wasn't due to embarrassment or fear. No, those emotional responses were too rational for her. Instead, the spattering of hair in the V of his shirt elicited her reaction. If she unfastened just six little buttons, she could follow that enticing path to its point of origin. A devious smile lit her lips, for she liked blazing new trails.
She shifted to get off, but Jaxon's grip tightened.
"You sure you want to go, mon est draco?" Jaxon asked in a rumbling tone. "Why don't you come down here and tell me about your dream."
Yes! Tell him. "No, no," she insisted, not sure who she hoped to convince, especially since her hand had bunched a swath of Jaxon's shirt, and didn't seem inclined to let go.
"Come here," he encouraged. "Whisper it in my ear."